Norwich former fire station sixth form academy approved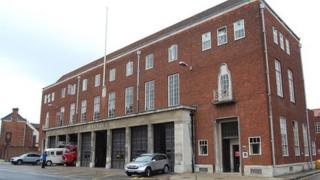 Plans to transform a former fire station in Norwich into a sixth form centre are approved by councillors
The Sir Isaac Newton Sixth Form on Bethel Street will specialise in mathematics and science and aims to recruit "gifted" students.
Norwich City Council granted the change of use application at a meeting on Thursday.
Firefighters moved to a new base outside the city in 2011, leaving the 1930s Grade II-listed building vacant.
Alterations to the building include a new staircase and lift, with trees to be planted near the public paths.
Norfolk charity The Lind Trust, run by businessman Graham Dacre, bought the former fire station which stands next to Norwich City Hall.