Gorleston road holes: Checks carried out to find cause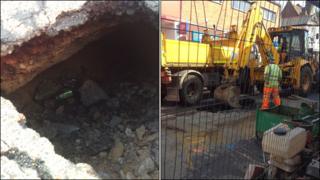 Underground checks are being carried out to discover why two holes appeared in two main streets in a town.
A hole appeared in High Street and a second in High Road in Gorleston in the past few days.
Norfolk County Council said it had begun excavations on the first hole and "no obvious cause of the subsidence" had been found.
Anglian Water and Virgin Media have been asked to check sewers and ducts near the High Road hole.
The 2m-deep hole, which measures 2m by 3m, opened up near the junction with Burnt Lane in the past 24 hours.
Meanwhile, an area of the High Street was being dug to see how big the first "cavity" was, the council said.
"This has been a difficult and slow process because of the amount of compacted road surface, areas of concrete, and buried utility services including a sewer with side connections, water and gas mains and electricity cables," a spokesman said.
"With about two-thirds of the excavation complete, no obvious cause of the subsidence has been found.
"All the utility pipes and cables appeared in good condition.
"There was evidence of rat runs dug below the road, and the very sandy subsoil may have contributed to the collapse."
If no leaks are found, the hole will be filled in on Tuesday or on Wednesday, with repairs expected to be completed by Friday.