Norfolk council managing director search put on hold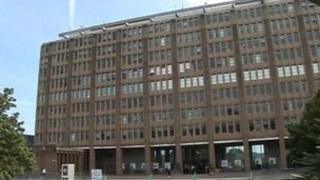 Plans to appoint a new managing director instead of a chief executive at Norfolk County Council have been put on hold.
Before the election in May Labour opposed the decision made by the previous Tory administration to appoint a managing director.
The new coalition, which includes UKIP, Labour, the Lib Dems and the support of Greens, chose a Labour leader.
The personnel committee put the process on hold while it viewed alternatives.
The committee agreed to recommend to the full council that it put on hold the recruitment process and continue with the current interim arrangements until such time as it "approves a new governance model".
'United team'
Leader George Nobbs said: "This is a time of transition and renewal for the council and it makes sense to pause this process and reconsider it when there is greater constitutional certainty.
"The last few weeks have been hectic and demanding but I have been very impressed at the way all the staff have pulled together as one united team under the leadership of Anne Gibson as interim managing director to ensure that the business of the authority continues effectively.
"This gives me and my administration great confidence that the interim arrangements are working well and will continue to do so".
Two of five shortlisted candidates for the post, which would replace that of chief executive, had already pulled out of the process.
David White, who earned £205,322 a year as the chief executive, had stood down in April following a review.
He said he lacked the skill and experience needed to make the authority more commercially-focused and generate more income.
The council subsequently decided its new top officer would be a managing director, earning between £165,000 and £180,000 a year.
Recruitment consultants Davidson & Partners were appointed to lead the search.
The council's Labour group said it did not consider itself bound by any decision made about the appointment prior to the election of a new council.