Sheringham telescope comes home from Australia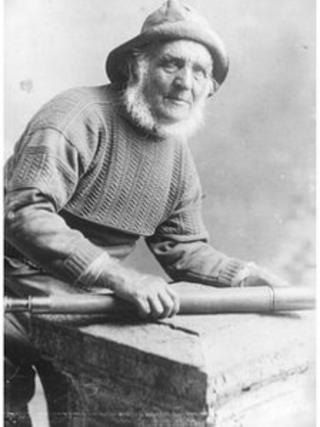 A 150-year-old telescope used by lifeboat crews in the 19th and early 20th Centuries has been returned to its Norfolk home by an Australian family.
The "nautical refractor" telescope was donated to Sheringham Museum by Tom Cooper, whose ancestors had used it.
Mr Cooper, who retired to New South Wales in the 1990s, said he wanted the heirloom to be available for "future generations to enjoy".
A spokesman said it was a "priceless piece of the town's social history".
Museum staff who have researched the telescope say it was first used on the Augusta lifeboat in 1838 and is thought to have been used by its first coxswain, Robert Long.
'Quite special'
It was also used on the Henry Ramey Upcher lifeboat between 1898 and 1945.
Similar telescopes were used to aid navigation on many vessels in the Victorian era.
Museum manager Philip Miles said "To have an object like this where we can trace the ownership of the telescope back nearly 150 years is quite special.
"While researching its history, one of our trustees came across a historic photograph dating to around 1860, actually showing the telescope with its first coxswain owner, Robert Long.
"This makes the object priceless to the museum as it is a living piece of the town's social history."
Mr Cooper, who donated the telescope, is the great-grandson of Tom "Barnes" Cooper, who took over as coxswain of the Augusta lifeboat following the retirement of Robert Long.