Conservative Bob Neill attacks Norfolk council code of conduct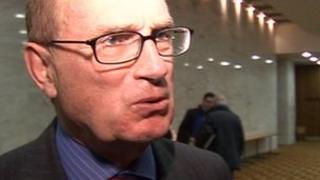 Norfolk County Council's code of conduct for members has been criticised by MP and Conservative Party vice-chairman Bob Neill.
Mr Neill, a former local government minister, said the code was "outdated and no longer fit for purpose".
He was speaking after the council's standards committee found former Tory leader Derrick Murphy had brought the office of leader into disrepute.
The council said its code was approved by the Local Government Association.
Mr Murphy stood down as council leader in January ahead of a standards committee hearing into allegations against him.
They related to an email sent to the BBC by a political assistant at County Hall at Mr Murphy's request, allegedly disparaging West Norfolk Council leader Nick Daubney.
Mr Murphy was cleared of various accusations but found to have brought the office of leader into disrepute and ordered to undergo ethics training.
He did not contest his Freebridge Lynn seat in last month's local elections and is no longer a councillor.
'Storing up problems'
Mr Murphy has now made a formal complaint to the Local Government Ombudsman about the standards investigation.
He alleges the council did not apply its new code of conduct during its investigation and that members of the standards committee had not been trained.
A spokesman for the Local Government Ombudsman was unable to confirm whether the complaint had been received.
Mr Neill said: "Norfolk County Council is storing up huge problems for itself by continuing to enforce a code of conduct that is outdated and no longer fit for purpose.
"It could learn a great deal from other authorities, like South Norfolk District Council, which have made the simple transition to a set of new standards arrangements that are light-touch and good for local democracy."
Mr Neill also criticised the council's "highly unusual" decision to employ barrister Jenni Richards QC and another lawyer to conduct its investigation, at a cost of £44,000.
'Robust and credible'
"No wonder the costs of these proceedings have spiralled," he said.
Mr Murphy said: "I am pleased to have received such strong support from the main architect of the current standards regime.
"I hope the Norfolk County Council standards regime is now reformed so it conforms to what the government wants."
A council spokesman said the authority had adopted a code of conduct recommended by the Local Government Association and very similar to one publicly endorsed by Mr Neill when he was a minister.
On hiring a QC, he said: "It was felt important to appoint an investigator outside of the local government 'family' who would be seen by all parties as totally impartial, robust and credible."
The council was Conservative-run until last month's local elections but is now run by an alliance of Labour, UKIP and the Liberal Democrats with support from the Greens and Independent members.