Norfolk UKIP's Matthew Smith probed over 'data theft' claim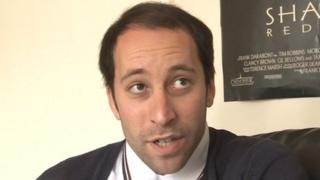 An investigation has begun into claims a UKIP county councillor stole confidential data from the Conservatives and offered it to Labour.
Matthew Smith, a councillor for Gorleston, Norfolk, is alleged to have offered Labour details of Conservative donors, members and canvass returns.
The Information Commissioner's Office confirmed it had received a complaint.
Mr Smith strenuously denied any wrong-doing and said the allegations against him were politically-motivated.
Mr Smith was elected as UKIP county councillor for Gorleston St Andrew ward last month and is the party's prospective Parliamentary candidate for Great Yarmouth.
'Kept in drawer'
He previously worked as an administrator for Great Yarmouth Conservative Association, working on its 2010 election campaign.
Barry Stone, former chairman of the association, said Mr Smith was sacked in 2011 over allegations he failed to destroy confidential credit card records and kept them in a drawer.
Mr Smith later threatened to take the association to an employment tribunal and it agreed to pay him a settlement.
On Wednesday, Charles Reynolds, Conservative county councillor for Ormesby, made a complaint to the Information Commissioner's Office.
A spokesman said it had received the complaint and had begun making inquiries.
Mr Reynolds said Mr Smith had downloaded all information held by Great Yarmouth Conservative Association and offered it Great Yarmouth Labour Party.
He said that because of the death of the then chairman of the Conservative association, Mike Butcher, it was never formally reported.
"I suppose at the time they thought 'Well, he's a young man, we've got rid of him and that's it' and possibly that's why it wasn't pursued," said Mr Reynolds.
"All of us in public life, whether you're a parish councillor or the prime minister, need to stand up to public scrutiny.
"If (people) choose to vote UKIP, fair enough, but they have got to know exactly who the candidate is and what he's done."
'We weren't interested'
Trevor Wainwright, Labour leader of Great Yarmouth Borough Council, said Mr Smith contacted him "out of the blue" and asked to meet in early 2011.
Mr Wainwright and fellow Labour councillor Bernard Williamson met Mr Smith, who had brought a laptop computer with him.
"He indicated that he had data on the computer," said Mr Williamson.
"We immediately said that we weren't interested in that and that we would not deal with any third-party data."
He said Mr Smith had talked about the possibility of joining Labour, and believed he was offering the data in an attempt to be offered a council seat.
"As I'd explained to him earlier, to get one of these seats you have to be elected democratically by members of the Labour party. I wasn't able to do that for him."
Mr Smith refuted all claims against him and said he and his party were the victims of a politically-motivated campaign.
"I do feel that it has been sustained personal attack from Conservatives and Labour on me as a result of UKIP's success in Great Yarmouth," he said.
"If they do believe that a criminal offence has taken place, why didn't they go to the police in 2011, and instead decide two years later, after UKIP beat them in the polls in Great Yarmouth, that they wanted to level an accusation, not through the police but the media?
"A reasonable person would understand that we have done very well and the established powers that be in Great Yarmouth are very upset they have lost."