Buxton bomb plot: Two men jailed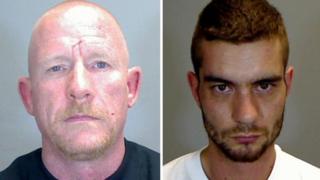 A jilted lover and his accomplice have been jailed over a failed pipe bomb attack in a Norfolk village.
Jonathon Taylor, 50, of Norwich, was sentenced to seven and a half years after admitting intent to cause an explosion likely to endanger life.
Milos Gontkovic, 26, who admitted assisting an offender, was jailed for two and a half years.
Paul Gregory, 30, from Norwich, who admitted supplying the explosives, will be sentenced at a later date.
The device identified as a "viable pipe bomb" was placed under a Toyota car in the garden of a house in Coltishall Road, Buxton.
Taylor hatched the plot after his girlfriend moved out of their home in the Lakenham area of Norwich and moved in with her new lover in the village, the court heard.
Chemicals found
The device was discovered on the morning of 2 September 2012.
It was examined by Army experts and sent for forensic examination, where it was found to be a potentially viable pipe bomb.
Taylor, of Southwell Road, was arrested the following day. After he was also arrested, Gontkovic claimed he was just the driver.
When Gregory's home in Middleton's Lane was raided by police, they found chemicals, literature and tools which could be used to make explosives.
A diagram of a pipe bomb was also found.
Gregory, who admitted making an explosive mixture for Taylor, pleaded guilty to possession of an explosive substance for an unlawful purpose.