Norfolk County Council: Three-party alliance established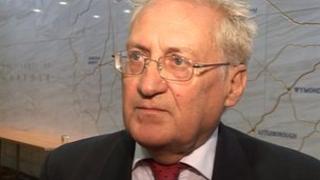 An alliance of three parties with support from the Greens and Independent members has been established to run Norfolk County Council.
Labour, the Lib Dems, UKIP and one Independent have voted to rule jointly and restore a formal committee system.
Labour leader George Nobbs has agreed to head the council for one year while the current cabinet system is replaced.
Conservative leader Bill Borrett said he was extremely concerned as the group appeared to have no policies.
Green Party leader Richard Bearman said his party would not commit to a formal agreement but would co-operate.
"We've voted for a council leader but have not joined any alliance or coalition. We will look at things on an issue-by-issue basis."
Mr Nobbs said his first act as new council leader was to strengthen the cabinet with two more posts covering education - to improve schools and safeguard children.
He added: "Norfolk faces great problems now - we must work together.
"We have four years to the next election and I'm happy to talk to any party for the good of Norfolk."
The three major parties proposing to take power said in a joint statement the cabinet system meant decisions were made by 10 or fewer people chosen by the council leader.
'Irrational and unethical'
"This tiny cabinet then ruled with effective impunity until the next local elections.
"On 2 May, 67% of the votes cast in Norfolk went to UKIP, Labour, Liberal Democrat, Green, Independent and other parties' candidates."
Dr Marie Strong, who leads the Lib Dems on the council, said her party had been concerned over a number of things under the previous Conservative administration and high among these was the cabinet system.
"With the committee system all 84 members of the council will have an input on decisions," she said.
"I'm willing to work with all groups and now we can move forward."
Toby Cook for UKIP said his party members were new to the council and would be taking more of a back seat role.
"We need to learn to walk before we can run. It takes experienced people to run a large council like this," he said.
'Formal strategy needed'
Members will form a full cabinet by early next week with Mr Nobbs as transitional leader to oversee the implementation of the new committee system.
Mr Borrett said: "The Conservatives will aim to be the best possible opposition and act in the interests of the people of Norfolk.
"But I am concerned that they appear to have no policies and the Greens are not going to join them formally.
"The county council needs a formal strategy to deal with the government's funding cuts ahead and we have heard nothing of that.
"I am sure the people of Norfolk will want to hear their policies but they've spent their first day arguing about seats."
The 84-member council has 40 Conservatives, 15 UKIP, 14 Labour, 10 Liberal Democrats, four Greens and one Independent.