Norfolk UKIP councillor at centre of malpractice inquiry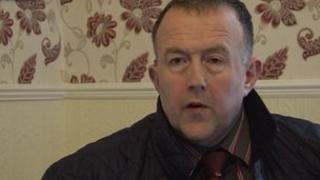 A newly-elected UKIP councillor, at the centre of an investigation into a forged electoral nomination paper, has said he has not "done anything wrong".
Jonathon Childs, who won a seat on Norfolk County Council, reported ahead of the 2 May election that the signature on his form was not his.
The Conservatives lost overall control of the council and UKIP became the second largest party.
Norfolk Police said its malpractice investigation was continuing.
Speaking for the first time since his election, Mr Childs said: "I've been vilified as being a forger and I'm disgusted with it all because I haven't done anything wrong."
He said he went to see the council returning officer because he had "heard a rumour" there was something wrong with his form.
He still stood for election after the returning officer declared the nomination was valid.
Mr Childs won the East Flegg ward near Great Yarmouth, beating the sitting Conservative candidate Jim Shrimplin into second place.
'Mystery to me'
The Tories needed 43 seats to retain control of the 84-seat council but only won 40.
UKIP won 15 seats, Labour won 14, the Liberal Democrats won 10, the Greens won four and there was one independent councillor.
Councillor Childs said: "I was in a daze, because I had signed nomination papers and it's a mystery to me.
"If I hadn't gone down there, I think it would have been wrong and I stand by my conscience that I did the correct thing.
"If a crime has been committed, I want the full weight of the judicial system levied against the perpetrator."
A Norfolk Police spokesperson said: "A police investigation into electoral malpractice is ongoing and the allegations are that one or more signatures on nomination papers were forged."