Houghton Hall exhibition: Old masters return after 234 years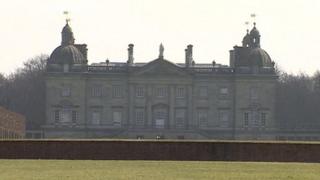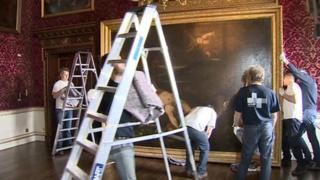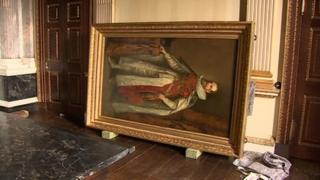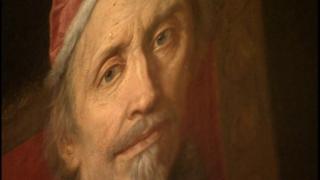 Masterpieces of art which have been lost to the UK for 234 years have arrived back for a new exhibition.
The paintings, which originally hung at Houghton Hall in Norfolk, were brought together by Britain's first Prime Minister, Robert Walpole in the 1720s.
More than 70 pieces, including works by Van Dyck and Rembrandt, were sold in 1779 to Catherine the Great of Russia.
Now they have travelled 2,736 km (1,700 miles) from Russia via Amsterdam and the Port of Harwich to the county.
The paintings will be on display from 17 May until 29 September in an exhibition entitled Houghton Revisited.
The works are on loan from the Hermitage Museum in St Petersburg and other Russian museums, as well as the National Gallery in Washington and the Metropolitan Museum of Art in New York.
After his death, Walpole's collection was sold to Russia for £40,555, equivalent to about £50m in today's money.
The prime minister left his family with a sizeable debt, which would now be worth around £6m.
The house is now owned by Walpole's descendant, the 7th Marquess of Cholmondeley, who inherited the Grade I listed building in 1990.
"It's something I've always dreamt about - seeing the original pictures back here," he said.
"I never thought it would be possible, I never thought Russian museums would lend the pictures back to a private house in England."
The paintings are being hung in their original places and will be surrounded by the original furniture, bronzes and marble antiquities.
It took a year to broker the deal to bring the paintings home to Norfolk.
Lord Cholmondeley said they had to make the house like a museum, with the right security, humidity control and government indemnity insurance.
"It was a lengthy process, I think Walpole would be amazed," he said.
Complicated negotiations
"There were a lot of complications to do with the contracts and with the agreements with the museums for a start," said Thierry Morel, curator of Houghton Revisited.
"It was a lot of negotiations."
Each painting made the journey in a wooden crate, and on arrival was left in the Stone Hall to acclimatise for at least 24 hours.
They were then inspected by conservators from Russia and Britain to check for damage.
Russian conservator Andre Tsvetkov said: "When I see the paintings on the original walls, original places, it's wonderful.
"It's very different than in a museum.
"Here it is the house of the paintings."
The exhibition is sponsored by several organisations, including BP, Christie's, the Oracle Capital Group and the Rothschild Foundation.