Norwich Cathedral peregrine falcon hatches three chicks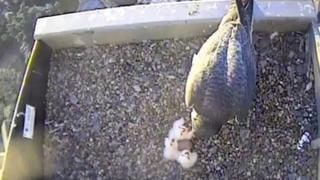 Peregrine falcons nesting on Norwich Cathedral have once again performed for the cameras, hatching three chicks.
The birds took up residence on the side of the spire in 2011 and last year hatched three eggs - the first chicks born in Norwich for 200 years.
This year's brood was captured on a live webcam placed near the nest by the Hawk and Owl Trust.
One was born late Tuesday, a second a few hours later and the third on Wednesday afternoon.
One egg has yet to hatch.
Dave Gittens, a volunteer at the trust, said: "The hatching of the first chick was around 23:00 BST [Tuesday] night, when the female was seen eating egg shell.
"The second chick hatched around 04:00 BST on Wednesday and the third at about 17:30.
"The major part of the male peregrine's job now will be to provide food for the chick and his mate."
Peregrine falcons are one of the fastest birds in the world, achieving speeds of over 120mph (200kph).
There are currently fewer than 1,400 breeding pairs in the UK.
Although they usually favour rocky cliff tops to make their nests, pairs have bred successfully in places as diverse as a disused nuclear reactor, and on top of a building belonging to Nottingham Trent University, as well as cathedrals in both Norwich and Derby.
The webcam which captured the Norwich peregrine chicks was set up on a platform 75m (246ft) above ground by the trust, and the cathedral also has a viewing point open to the public.