North Norfolk Railway signal box catches fire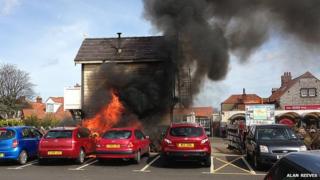 A 106-year-old railway signal box has been severely damaged by fire - five months after being returned to the site for the first time in 40 years.
The blaze, on Sheringham's Station car park at 11:20 BST, is thought to have been caused by an electrical fault in a car parked nearby.
Flames burnt the side of the wooden signal box and two other cars.
Eyewitness Alan Reeves said there "were loud bangs" when the car's tyres exploded. Nobody was hurt.
He added: "There was a little bit of smoke coming from the car which had just been parked initially, like it had overheated. The next thing, flames started coming out of it.
"There was a few loud bangs when the tyres went, but I think the poor chap who owned it seemed more concerned about the cars either side of him."
The blaze comes five months after volunteers from the North Norfolk Railway (NNR) returned the signal box to the site.
It was moved from the Sheringham crossing in 1972, following the closure of the station by British Rail, to ensure its survival.
Trevor Eady, general manager of NNR, said: "It's a real shame. We've been getting ready to start the work on it to refurbish it.
"We're lucky, there was actually one of our members of staff working in the signal box at the time, as well as a guy working on the exterior to the east side of the box.
"He banged on the window and suggested to the guy inside that he got out. He'd actually smelled some smoke and wasn't sure whether it was one of our steam engines.
"He came out with a fire extinguisher, but there was absolutely nothing that he could do.
"It does appear that internally there isn't any major damage. Some of the electrics have burned through, and we have an electrician going through and checking everything.
"At this stage, it's difficult to say exactly what sort of damage in terms of lasting damage has been done, but the fire officer did say that he thought structurally the box was still good."