Norfolk PCC Stephen Bett: 'Scrap some speed limits'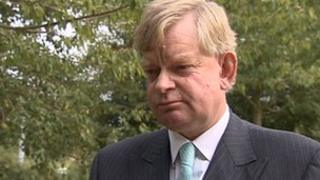 A police and crime commissioner has suggested abolishing speed limits on some major roads and letting drivers go as fast as conditions allowed.
Stephen Bett, PCC for Norfolk, said it might be safe for some drivers to go "flat out" in certain circumstances.
He said many speed limit signs should be removed because drivers could become "mesmerised" by them.
David Williams, chief executive of the Guild of Experienced Motorists, said Mr Bett's idea was "nonsense".
Mr Bett, an independent PCC, said he advocated abolishing speed limits on motorways and other major roads, and having a blanket speed limit in villages.
'So many signs'
"We ought to drive to road conditions rather than set limits. The problem nowadays is there's so many damn signs," he told BBC Radio Norfolk.
"You are driving along and you get mesmerised by them and you get situations where you get a 50 to 40 to 30 [mph] and it goes to 20 in the middle and back up again.
"If we're going to do something about speed and villages, we ought to just take all the signs down and say all villages are 30mph, or whatever it's going to be, and you drive on roads, like they do in Germany and Italy, as road conditions say."
Police forces, including Norfolk's, are currently taking part in a week-long, Europe-wide speed enforcement campaign.
"The police force always needs to do that. People say, if people are going fast they will cause trouble, but a lot of people, if [the limit] was 70mph, would go faster anyway," said Mr Bett.
Asked how fast a fully-alert driver could safely travel in a modern car on an open road in the early hours of the morning, Mr Bett said: "That is a very significant one because it depends on the driver.
'Protect road users'
"If you have got someone who's a Formula 1 racing driver, well, you can go flat out.
"If he was a racing driver and really, really good and had tremendous reflexes, probably as fast as the car will go."
David Williams, of the Guild of Experienced Motorists, said: "Twenty-four per cent of road deaths are caused by inappropriate speed.
"It's a very important issue. It does need to be enforced clearly and we do need to protect innocent road users from people who think that they can drive faster, like racing drivers, on the highway.
"That just is nonsense."
Tim Passmore, Conservative PCC for Suffolk, said he did not agree with Mr Bett's suggestion.
"I think we have got to be very careful about anything like this," he said.
Mr Passmore said he had lived on the A140 for more than 30 years and the number of serious road accidents had fallen since a 50mph limit was imposed on the Suffolk stretch of the road in 2004.