Novelist Rose Tremain appointed as new UEA chancellor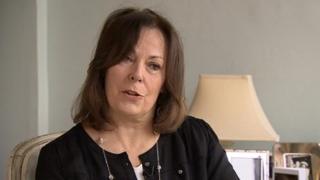 Novelist Rose Tremain has been appointed chancellor of the University of East Anglia (UEA) in Norwich.
Ms Tremain, 69, is the first writer, the first woman and the first UEA graduate to take on the role.
The appointment is for a three-year term and follows the death last year of Sir Brandon Gough.
Ms Tremain, whose novels include Restoration, Music and Silence and The Road Home, will be installed as chancellor at a ceremony on 7 June.
She has had a close association with the university for almost five decades.
She studied English as an undergraduate from 1964 to 1967 as part of the UEA's second intake.
'Honoured and moved'
Ms Tremain returned to teach on UEA's creative writing MA course from 1989 to 1995.
She has given readings at its literary festival and was awarded an honorary doctorate in 2000.
She said she was "honoured and moved" to be invited to become chancellor in UEA's 50th anniversary year.
"When I was a student at UEA, back in the mid-sixties, I was taught by Angus Wilson and Malcolm Bradbury, and this helped to change the direction of my life, setting me on the path towards becoming a writer," she said.
"I therefore owe UEA a big personal debt and I hope I can pay this back by being a vibrant spokeswoman for an exceptional institution which has stayed marvellously faithful to its chosen motto 'Do Different' - not least by appointing me."
Brian Summers, UEA registrar and secretary, said: "The installation of a chancellor is always cause for great celebration in any university community, but particularly so when the appointment is someone with such deep and long-standing association with the institution."