Yachts damaged in Wells-next-the-Sea harbour fire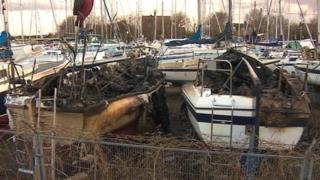 Three of "the biggest and most expensive" yachts in a north Norfolk boatyard have been severely damaged in a fire fuelled by high winds.
Four fire engines were called to the east end of the harbour yard at Wells-next-the-Sea about 11:30 GMT.
Neighbouring yachts were evacuated but no-one was injured.
Harbour master Robert Smith said the fire is believed to have started in a yacht on the quay being prepared for the new season.
He added: "The wind coming from the north east whipped it up to a fury and before we knew it, it was ablaze.
"It blew across the yard and it [the fire] caught the other vessels which is a great shame, but it could have been a lot worse.
"The guy who was working on his boat tried to fight the fire as long as he could and had to be persuaded to get off, but he was fighting for his boat which he thought the world of.
"They were three of the biggest and most expensive yachts that Wells harbour has. There's nothing left of two of them."