Norwich Cathedral peregrine falcon lays fourth egg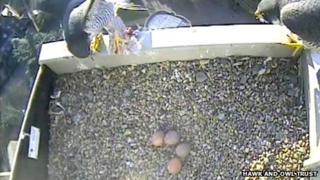 A fourth egg has been laid by peregrine falcons nesting on the spire of Norwich Cathedral.
The egg was spotted on the Hawk and Owl Trust's live nest-cam about 06:35 GMT. The third egg was laid on Tuesday at 16:50 GMT.
Four eggs were laid last year, with three hatching. The chicks were the first born in Norwich for 200 years.
The peregrines have been nesting on the cathedral platform since 2011.
One of the fastest birds in the world, achieving speeds of over 124mph (200kph), there are currently fewer than 1,500 breeding pairs in the UK.
Carrie Kerry, the cathedral peregrine's project officer, said: "Based on statistics it's unlikely our pair will have any more eggs, but it's not impossible."
There was high drama on the spire on Wednesday when a second female flew into the territory.
"We watched our female chase another who had flown close to the spire. After just a few minutes, the male joined in the chase and between them, they saw her off," said Ms Kerry.
"We were all relieved when our female went back to her eggs. Occasionally females protecting their territory have been known to fight to the death."
The specialist platform - 75m (246ft) above ground - for the peregrine adults was set up by the Hawk and Owl Trust on the cathedral's spire.
Conservation officer Nigel Middleton said: "People are concerned that the weather will affect the eggs, but traditionally peregrines are sea cliff nesting birds and are used to harsh weather.
"Both parents are now taking it in turns to incubate the eggs allowing regular breaks from the weather but ensuring the eggs are always kept warm."
A watch point at the cathedral set up by the trust is now open to the public.