New engine test unit approved for Norwich Airport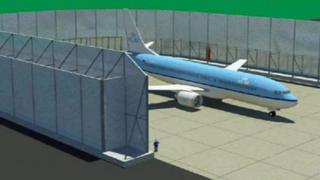 A new engine testing facility at Norwich International Airport will go ahead, securing the future of 341 jobs.
Norwich City Council planners have approved a new building on the eastern part of the airfield.
Airport managers have been working with KLM UK Engineering, who have repaired and maintained engines there for 35 years, to get the new test facility.
Campaigners are disappointed the committee has given approval as they wanted a judicial review of the unit.
A soundboard to surround aircraft when engines are being tested to muffle much of the sound is to be built.
Andrew Bell, the airport's chief executive, said that everything possible had been done to address the fears of local residents.
"We have invested in state of the art technology to mitigate the noise.
Decision 'unwelcome'
"We've taken on board the representations of neighbours and agreed there would be no testing on 100 days during the year.
"The decision ends a period of uncertainty for us. We can now move forward and say to KLM they are fully valued."
Molly McGee, who lives very near the airport and will have a clear view of the new test facility, said she was very disappointed.
"I feel the committee has let us down. We fought so hard and this outcome is not welcome," she said.
"But it no good going on about it. It's happened and I feel so sad for residents.
"The noise permeates everywhere and unless you are there it is hard to describe.
"It may go on for an hour in the morning then it goes quiet. You go into the garden and it starts up again.
"As the crow flies we are in a direct line to it (the noise)," she said.