Former RAF Neatishead base sold for £2.5m in eBay auction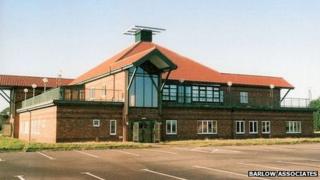 A former RAF base in Norfolk has been sold on internet auction site eBay for its listed price of £2.5m.
The base at Neatishead, near Wroxham, was put back on offer on the site last month after having failed to sell the first time it was put up for auction.
At the deadline of 18:00 GMT on Thursday, it had attracted one bid and the sale closed.
The site, opened in 1941, was used as a radar monitoring station until 2005, before being sold to developers.
Agent Nick Barlow from Midlands-based Barlow Associates said: "We're trying to check whether the person [who bid for the site] has got adequate funding."
He hoped he would know more by next week, he added.
An offer for the RAF base at the beginning of February when it was listed on eBay for the first time was cancelled as Mr Barlow had not been "satisfied with the individual's funding."
It was relisted for auction on 11 February.
There are 16 buildings on the air base, including former radar rooms, tennis and squash courts, station headquarters and the old officers' mess.
The RAF still carries out communication work for aircraft on a small part of the site.
This will remain, alongside the RAF Air Defence Museum, which was established on the air base 14 years ago.