Barrister's report into Norfolk council leader cost £35,275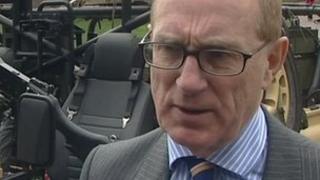 A barrister's report into the conduct of the then Norfolk County Council leader Derrick Murphy, which led to a hearing censuring him, cost £35,275, the authority has revealed.
Derrick Murphy said he would not return to his post as leader after a standards committee found he had brought his office into disrepute.
He was accused of telling an officer to send an email disparaging a councillor.
Mr Murphy was later cleared of various accusations relating to the email.
The council asked expert Jenni Richards QC to produce a report into Mr Murphy's conduct. It recommended he face a standards committee.
Ms Richards found that Mr Murphy had ordered a council officer to send the email to the BBC and saw it before it was sent.
It referred to Nick Daubney, the Conservative leader of West Norfolk Council.
The standards committee ruled on 1 February that the Tory leader of the council should receive training in ethics after censuring him for bringing his office into disrepute.
The costs of the barrister's report have been revealed by Norfolk County Council.
A full leadership election will now be held on 22 February by the Norfolk Conservative Group.