Norwich rail worker spots 'lost' gyrfalcon feeding on pigeon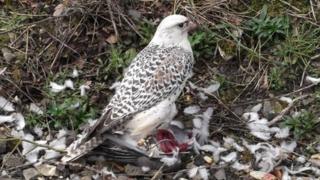 A rare and valuable gyrfalcon that may have been lost by an owner has been spotted feeding by the side of a railway line in Norfolk.
The bird was spotted feeding on a wood pigeon, by rail engineer Paul Witty as he walked along the track at Dunston.
Mr Witty made several attempts to catch the falcon by trying to attract it to jump on his arm, but the bird flew off.
There appears to have been no reports of the bird being missing, but Mr Witty has registered the find online.
The engineer, who works for Norwich civil engineering company May Gurney on a maintenance contract for Network Rail, spotted the bird while carrying out a weekly test of line-side equipment.
Largest of species
"The bird circled overhead. I think he wanted to get back to his dinner," Mr Witty said.
"I walked further along the line. It appears that someone had lost it as it has jesses and bells on its leg.
"I attempted to catch it but was unsuccessful.
"When I came back along the line it had returned to feed and I tried to catch it by throwing a coat over it but it flew away.
"It's the kind of bird that would be highly prized by a falconer. It's highly desirable."
Mr Witty said he saw a lot of wildlife doing his job for which he always carried a camera for recording purposes, but had not seen a gyrfalcon before.
The gyrfalcon is largest of its species and its most common wild habitats are in the Arctic and Iceland.