Algeria crisis: Victim Sebastian John rang home before he died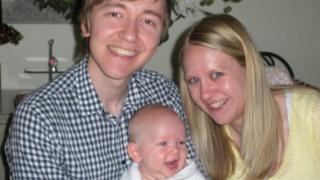 A man has told how his stepson rang him to say he was being held captive in Algeria shortly before he was killed in the hostage crisis.
David Pugh said father-of-one Sebastian John, 26, told him to be a "strength" for his family.
Mr John, a former Norwich School pupil, was among six UK nationals killed after the attack at the In Amenas gas plant, on 16 January.
Mr Pugh said a memorial service would be held at Norwich Cathedral.
Mr John was born in Luton but spent much of his childhood in Norfolk. He is understood to have lived in Nottinghamshire.
"I had a phone call from Seb. He rung me the morning he was taken hostage," Mr Pugh told the BBC.
'Genuinely lovely man'
"I thought he had just called about football. He told me to pause and stop.
"He told me he had been taken captive by the terrorists and that could I make sure that I looked after his mother (Hazel) and wife Nicola (mother of their seven-month-old son Ralph) and be a strength for them and get him home but I'm afraid that never happened."
Mr Pugh, of Happisburgh, Norfolk, said his stepson was a "genuinely lovely" man.
"He loved his family and adored his son. He was a really clever, good person with a fantastic smile and a gentleness," he said.
Mr John was an avid Norwich City fan, and supporters paid tribute to him at Wednesday night's Premier League match against Tottenham, which Mr John's family attended.
He was honoured with a scoreboard message and programme mentions.
Mr Pugh said: "Yellow and green was running through his blood."
Mr John, a Loughborough University graduate, was in Algeria on a training course when he was captured.