Peter Beales: RHS Chelsea gold-winning rose grower dies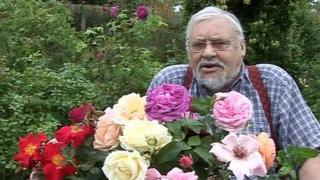 The man who grew the Queen's rose for her Diamond Jubilee last year has died at the age of 76.
Peter Beales was one of the world's leading rose growers and a multiple RHS Chelsea gold winner.
An announcement on the website of his firm in Attleborough, Norfolk, said: "With deep sadness, we regret to inform you that Peter died [on Saturday]."
Celebrity gardener Alan Titchmarsh, said Mr Beales was a "great gardener" whose influence will continue.
Mr Beales was awarded the Victoria Medal of Honour by the RHS in recognition of his success as a rose grower, which began in 1968, when he opened his business in Swardeston.
He died at the Norfolk and Norwich University Hospital after suffering from heart problems.
Remembered 'fondly'
Mr Titchmarsh, said: "Peter Beales' contribution to the world of rose growing is unique.
"It was the old and classic roses that Peter loved best and by growing them and making them available to a wider range of gardeners he did tremendous work in terms of our rose growing heritage.
"His influence lives on and I shall remember fondly a great gardener and an affable man."
Peter Beales Roses claimed its 19th Royal Horticultural Society gold medal at last year's Chelsea Flower Show, where the nursery revealed three new roses at the show, including the Queen's Jubilee Rose.
The award marked the nursery's seventh consecutive gold.
Steven Bennett, RHS shows director, said: "It is with great sadness that we received the news of the death of Peter Beales.
"An accomplished and much respected exhibitor at shows such as Chelsea from 1971, Peter has contributed a great deal to the gardening community, as demonstrated through the number of awards and medals he received through this time.
"His memory will live on though many of the roses he helped bring to prominence both here in the UK and overseas."
Mr Beales is survived by his son Richard, daughter Amanda, and four grandchildren.