Norfolk PCC to increase tax by nearly 2%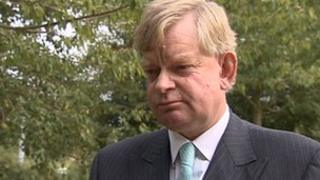 Plans to increase Norfolk Police's part of the council tax to help prevent further cuts to policing numbers have been announced by the force's PCC.
The increase will cost the average council tax payer just under £4 a year.
Commissioner Stephen Bett's £149m budget includes plans for the loss of up to 10 police posts.
But the 1.96% increase means the Chief Constable will have the option to recruit 10 more PCs or community support officers if he wishes to do so.
'Increasing the frontline'
Mr Bett told the BBC it allows the possibility of more officers.
"When we were electioneering we pledged that we would increase the frontline if we possibly could and with this nearly 2% increase we'll give the Chief Constable the opportunity to increase the frontline," said Mr Bett.
He said a decision on the number of extra police officers and/or police and community support officers (PCSOs) and/or police staff "will be entirely up to the Chief Constable".
Mr Bett added: "The Chief Constable may decide to have a mix of PCSOs and warrant officers or he might go for just warrant officers."
He said in 2015-16 the force was "facing some serious budget shortfalls" that the county would have to deal with.
The budget will go before the Norfolk Police and Crime Panel on 31 January.
Alec Byrne, chairman of the panel, said: "Our role is an important one and during the next meeting we will be reviewing documents which will have a significant impact on the people of Norfolk.
"It is vital that we thoroughly scrutinise the precept (the force's share of council tax) being proposed by Norfolk's Police and Crime Commissioner to ensure that Norfolk continues to be one of the safest counties."