Norfolk empty homes are deemed 'huge waste' by charity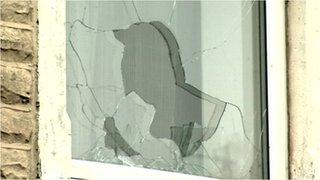 Norfolk has more than 9,000 empty homes, of which 1,621 have not been lived in for more than two years, a BBC investigation has found.
The figure, from local district councils, has been labelled a "huge waste" by the chief executive of YMCA Norfolk, Tim Sweeting.
The councils and the government said they are looking at ways to encourage landlords to put homes back into use.
The National Landlords Association said it wants to cut empty homes numbers.
BBC Radio Norfolk obtained the figures from the Norwich, South Norfolk, Broadland, Breckland, North Norfolk, Great Yarmouth and King's Lynn councils.
The data showed that there are 403,315 homes in the county of which 2.3% (9,301) are empty.
Mr Sweeting told the BBC: "There's a lot of houses that are empty at the moment. That's a great shame when there are people who are insecurely housed.
"These numbers being about houses that don't have anybody living in them at all then it's a shocking number. It's a huge waste."
Twenty-one-year-old Leon, who would not give his surname and and lives in the YMCA's hostel in Great Yarmouth, said: "I find it sickening especially as there are other people in worse situations than me.
"It's horrible to see empty houses, especially when I am homeless myself."
Current council tax discounts in Norfolk allow owners of empty properties up to six months of nil charge. From six months onwards generally the levy is 50% of the full tax rate.
'Encourage re-letting'
From April a zero charge will be applied for the first three months across Norfolk, except in Norwich where the limit will be set at one month.
Homes empty for more than that period will be liable for the full rate of council tax, while properties empty for more than two years will have a 50% premium added to the full rate.
Yvonne Bendle, cabinet member for housing and public health on South Norfolk District Council, said: "We took some measures at the end of last year so we could work on these empty properties, especially the ones that have been empty for over two years.
"For the first three months a property there will be a nil council tax rate. This will enable the owners to re-let the property in a reasonable way.
"After that they will pay 100% council tax, and if it is empty for more than two years they will be paying 150%, in other words an extra 50% than if the property was filled."
Brandon Lewis, the MP for Great Yarmouth, who is also a minister in the Department for Communities and Local Government, said the law was changed so councils could address local housing needs.
"In one county alone, that's a substantial number of houses to be empty that could be in use for the community," he said.
David Cox, Senior Policy officer, National Landlords Association (NLA), said: "The NLA supports proposals that focus on promoting and assisting with the renovation and restoration of empty properties in Norwich and welcome efforts to work closely with landlords to bring empty homes back into use.
"We welcome South Norfolk's decision to maintain tax exemptions for short-term empty homes as this enables landlords to effectively prepare their property to be re let."