Norfolk snow: Delayed starts for some schools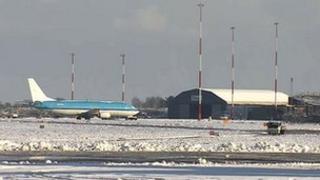 Some Norfolk schools have remained closed or are having delayed starts due to the weekend's heavy snow.
About a dozen schools are still reporting issues, with freezing temperatures overnight leading to travel and heating problems.
One flight has been cancelled at Norwich Airport and some others delayed due to icy conditions.
The Met Office has issued an ice warning telling people to be aware of possible disruption on Tuesday.
Some light snow flurries could also occur.