Norfolk snow: Schools shut because of weather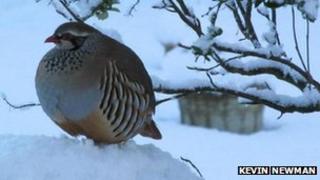 More than 275 Norfolk schools were closed after fresh snow fell overnight.
Norwich Airport has reopened after being closed since the early morning, though passengers are warned of delays.
Train operator Greater Anglia said a normal service is running on most routes but there will be some cancellations during peak times.
A spokesman said trains may have to run at reduced speeds, causing some delays. First buses will serve the county's main roads only.
Norfolk Green is sending all buses out as normal but said delays are inevitable.
Peter Meades, spokesman for Greater Anglia, said: "We've got a few delays but generally all our routes are open and services are running reasonably well at the moment.
"There is a delay to a service at Chelmsford, causing delays in the London direction. We've got our engineers working on the fault with the train."
'Strain on services'
The East of England Ambulance Service said there had been a number of sledging injuries over the weekend with a number of broken limbs and head injuries.
Anna Dugdale, the chief executive of the Norfolk and Norwich Hospital, said "hundreds" of people had passed through the accident and emergency unit since last Tuesday.
"Our trauma teams have been operating day and night to keep up with the number of people coming through with fractures putting a strain on services because of the volume."
Jenny Burrell from Aylsham has had to find alternative ways of keeping warm since her heating broke down a month ago.
"There's been ice in the dog bowl, ice in the toilet.
"Thank goodness I've got an electric blanket and oil radiators to try and keep one room in the house warm enough to stay in."
Carrilion Energy Services, who supplied Ms Burrell's heating system, told the BBC it would be investigating the problem as a matter of urgency.
There were 279 schools closed in the county.
Clare Cook, headteacher at Bignold Infant and Nursery School in Norwich decided to keep the school open on Monday, but said the decision was not an easy one.
She said: "I'm within walking distance so I knew I could walk here.
"When I was headteacher in Thetford I wouldn't have closed the school because I know how difficult it is to drive there.
"I think every headteacher has a very difficult decision to make... and I've been up since four deciding whether to keep the school open or not," she added.
Road users are being advised to check the latest weather forecast and road conditions before they travel.
The latest information on school closures can be found here.