Rhiya Malin death: Trial of Eton Manor workers starts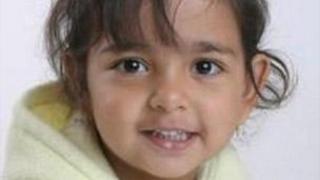 Two nursery workers have gone on trial accused of health and safety failings connected with the death of a toddler.
Rhiya Malin, aged two, had a heart attack when her head got stuck in a playhouse at Eton Manor Nursery in Chigwell in 2007.
Karen Jacobs, of High Ongar, and Kayley Murphy, of Loughton, face a number of safety allegations.
They deny the charges, brought by Epping Forest District Council, and are on trial at Chelmsford Crown Court.
The court heard how Rhiya was dropped off at the nursery at about 08:30 GMT on 7 November, 2007.
At about 11:00, she was found trapped by the neck between the wall and roof of a wooden play house.
Risk assessments
It is believed she had been standing on a tricycle and then slipped, the court was told.
She died about an hour later in hospital.
Ms Jacobs, of Mill Lane in Ongar, was the nursery manager and faces a number of charges including failing to take reasonable care of people who might be affected by her actions at work, failing to ensure the children were adequately supervised in the garden and failing to ensure risk assessments were carried out.
She is also alleged to have let children under two use the playhouses despite knowing they were not suitable for that age group.
Ms Murphy, a room supervisor who lives in Greenfields in Loughton, faces similar health and safety charges.
The trial is expected to last four weeks.