Norfolk snow disrupts schools and transport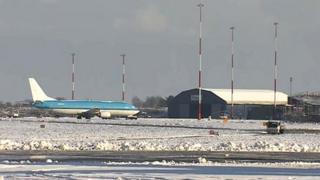 Heavy snow has caused disruption across Norfolk, with flights cancelled, trains delayed and some roads gridlocked.
A police car hit two people during a snow storm in Norwich at lunchtime. One person suffered a minor knee injury and the other one was not hurt.
The snow storm on top of icy roads brought gridlock around the city.
Norfolk County Council said more than 60 schools had closed due to the cold weather, icy grounds, lack of transport and problems with heating.
Greater Anglia said problems owing to snow had caused train delays between Norwich, Cambridge and London.
Norfolk Police, who are investigating the incident in Norwich, said during the afternoon there had been 63 reports of crashes since midnight.
The spokesman said "hazardous driving conditions" would continue through the night.
Grapes Hill on the inner city ring road was closed for several hours as vehicles struggled to get up its steep slope.
Police stopped vehicles going into Norwich city centre because of the heavy snow fall.
Lorna Gillin lives on Long John Hill, on the outskirts of Norwich, and said traffic struggled to get up its steep slope during the afternoon.
Roads blocked
Greg Tunmore, who was trying to get home to Diss 35 miles away, was stuck in the car park outside the accident and emergency department at the Norfolk and Norwich Hospital for more than three hours.
He said that all the roads around the hospital were gridlocked, he moved about 10 yards (8m) in two hours and he had seen no ambulances arriving or leaving.
"These roads have not been gritted. It's heavy snow falling on sheet ice. Some workers are clearing paths but no gritters.
"I've never seen anything like it with car wheels spinning on the ice and people falling over.
"My little boy was hungry and fed up," he said.
Several stretches of road were blocked around the county adding to the chaos and some schools decided to close early but pupils experienced difficulties getting home because of the gridlocked roads.
The A149 north Norfolk coast road was blocked by snow and abandoned vehicles between Sheringham and Blakeney.
There were also problems on the A47 westbound at East Tuddenham near Dereham, the A11 northbound at Wymondham, the A140 Norwich to Ipswich Road at Dunston Hall and the A148 Norwich to Holt Road at Letheringsett.
Heavy lunchtime snowfall
Bus operators also reported severe delays due to worsening conditions, with Norwich park and ride services suspended for a time.
The Met Office has issued a yellow snow warning for the East of England, meaning the public should be aware of more disruption to come.
As much as 17cm (7in) of snow fell in parts of Norfolk on Monday.
Norfolk County Council said gritters had been working non-stop for over 24 hours and would be spreading on the priority roads continuously overnight.
More than 1,000 tonnes of salt/grit had been used in the past 24 hours.
A spokesman said: "By the morning all main roads were passable.
"We'd put as much salt down as reasonably expected - but the snowfall at lunch was so heavy, that traffic ground to a halt, and the salt stopped being effective as it needs traffic to churn it up to work."
Gritters had all done four runs in the past 24 hours and in each run the fleet deposits a total 250 tonnes.