Norfolk leader Derrick Murphy standards case investigated in county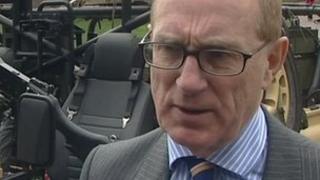 Calls for an investigation into the conduct of the leader of Norfolk County Council to be carried out by another local authority have been rejected.
Conservative Derrick Murphy is accused of undermining the leader of another council in an email.
The county council Labour group claimed the public would question an inquiry by a standards panel that included five members from Mr Murphy's own party.
The county council's head of law said the case had to be answered in Norfolk.
Mr Murphy, who has temporarily stood aside as leader, said he had no comment.
The complaints against Mr Murphy relate to an email sent by Kevin Vaughan, a Conservative political assistant at County Hall, regarding West Norfolk Council's Conservative leader, Nick Daubney.
Waste incinerator
An independent investigation had concluded that in sending the email, Mr Vaughan had been acting on Mr Murphy's wishes.
The email at the centre of the controversy was sent last April by Mr Vaughan to BBC Radio Norfolk.
It was sent two days before Mr Daubney was due to appear on the station to discuss a proposed waste incinerator at Saddlebow, King's Lynn.
The incinerator is backed by the county council but opposed by West Norfolk Council.
The email, released after a Freedom of Information request, said that Mr Daubney was facing "a serious leadership challenge" and that his council had failed to procure alternative technology to the plant.
A date has yet to be confirmed, but Norfolk County Council's standards committee hearing is expected to take place on 1 February.