Eaton Primary School caretaker Gavin Clark: 'No concerns raised'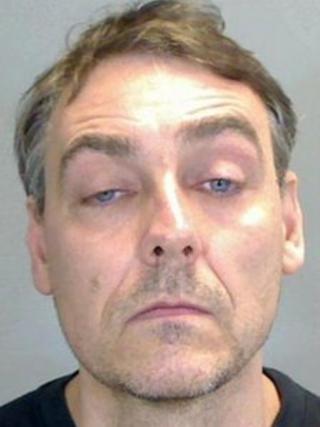 A caretaker's behaviour had not caused concern before he was found to be living in a school cupboard with indecent pictures of children, Norfolk County Council has said.
Gavin Clark, 42, was arrested after police were called to Eaton Primary School, Norwich, last July.
Clark was found to have nearly 4,000 indecent images and was jailed for a year on 2 January.
The council said Clark had been thoroughly vetted before starting work.
Clark, who was site manager at the school, had been off work sick when he contacted a member of staff, saying he had personal possessions at the school that he needed access to, Norwich Crown Court heard.
Behind locked doors
A makeshift bed and personal items were then found in a cupboard at the school.
Police were called and found the indecent images on a laptop, SD card and memory stick. Nearly 500 of the images were in the two most serious categories.
The court heard the images found were not "relevant" to the school.
In response to questions from the BBC, the council said Clark began working at the school in September 2007.
It said "comprehensive" pre-employment checks were carried out before he was given the job.
The council said the cupboard where Clark had been living was in a secure bin compound away from the school building.
"Once in the bin compound, a locked external door leads to an inner lobby," it said in a statement.
"Another locked door, only accessible from this inner lobby, leads to the cupboard in question."
Besides Clark, only the assistant caretaker would have had access to it, the statement added.
Marriage split
The council said it was unable to say how long Clark had been absent on sick leave, and when he was found to have been living in the cupboard.
Nor would it say what circumstances gave rise to the police being called and when this happened.
This was all "sensitive personal information", it said.
The council also said neither it nor the school could confirm how long Clark had been living in the cupboard.
"Existing advice to all schools remains the same: we ask them to make us aware, via the local authority designated officer (LADO) team, if they have any concerns about a member of staff, and that's exactly what happened in this instance," the council said.
"The school, informed by the advice from the county council's LADO team, acted appropriately and in line with safeguarding procedures by referring the matter to Norfolk County Council and the police."
Clark, who admitted three counts of possessing indecent images, was also made the subject of a sexual offences prevention order.
The court heard Clark had been living in the cupboard after splitting up with his wife.