Norfolk and Suffolk NHS cut to doctors 'puts services at risk'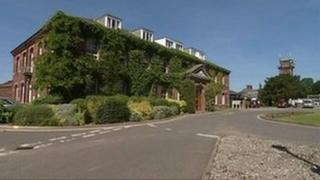 A mental health trust's plan to cut its number of doctors by more that a third could put services at risk, the British Medical Association (BMA) has said.
Norfolk and Suffolk NHS Foundation Trust is looking to cut up to 500 staff, including 49 doctors' posts, as it tries to make savings of £40m.
The BMA said patients could suffer and that it appeared the trust had already made up its mind about the cuts.
The trust said consultations on its proposed savings were continuing.
The trust provides child and adult mental health services, alcohol treatment, learning disability and eating disorder services.
It was formed a year ago by the merger of Norfolk and Waveney Mental Health Trust and Suffolk Mental Health Partnership.
'Minimum impact'
On Friday its decision to spend nearly £700 on Quality Street chocolates to celebrate the merger was criticised by the union Unison.
The trust faces a 20% reduction in its budget over the next four years and is consulting on a package of cuts.
Dr Rob Harwood, secretary of the BMA's Eastern division, said 33 consultants' posts and another 16 doctors' posts at other grades would be lost under the proposals.
"The trust does say it is planning to reorganise services to make sure there's minimum impact on their patients, and one would hope they can do that," he said.
"My concern is if you are losing up to a third of your most senior doctors, and up to 40% of your other permanent doctors, you are going to have to make changes to your services that make them incredibly efficient and effective if you are not going to feel the loss of those staff that you have made redundant.
"What we worry about is that it will be less easy to access mental health services in our part of the region."
'Public comments welcomed'
He urged members of the public to make their views known, but said the trust appeared to be "anticipating" the results of its consultation,
"Doctors are already being invited to one-to-one interviews to discuss their future," he said.
Dr Hadrian Ball, medical director at Norfolk and Suffolk NHS Foundation Trust, said: "Yes, there is a service strategy out for consultation.
"The strategy is designed to allow us as an NHS provider organisation to deliver services without anticipating any major increase in funding over the next three to four years.
"It is inevitable that such a strategy involves significant change to the workforce.
"Many senior clinicians, including consultant psychiatrists have been actively involved in and have led on the various elements in the strategy.
"We welcome Dr Harwood's intervention in bringing this matter into the wider public domain and we welcome any comments from the public who should also ensure that their views are forwarded to the relevant NHS commissioners as ultimately decisions around funding are made by commissioning organisations and not the trust."