Thetford development stone curlew challenge rejected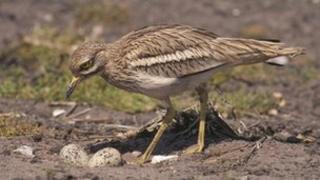 A claim that the growth of a Norfolk town could threaten a rare bird has been rejected in the High Court.
Shadwell Estate challenged Breckland Council over its plans to designate land to the north east of Thetford for 5,000 homes.
The estate had claimed the council had not carried out a full study of the effect on the stone curlew, which nests on the ground in the area.
The judge backed the council which said it had taken the bird into account.
The council's Thetford Area Action Plan (TAAP) proposes that land on the Kilverstone Estate should be made available for housing development.
Mr Justice Beaston said: "My summary of the sustainability appraisal shows that there are numerous references in it to biodiversity issues, impacts on stone curlews and alternatives."
Delight and disappointment
The council argued it had consulted the Royal Society for the Protection on Birds and Natural England and that the plan included a buffer zone between any new development and the stone curlew's "special protection area" to the south east of Thetford.
Speaking after the High Court hearing in Birmingham, Mark Kiddle-Morris, the council's executive member for development, said: "We are delighted today's judgment has validated the soundness of the TAAP.
"By balancing government requirements, the needs of local residents and protection of the local environment, the plan will provide a framework that will achieve growth, regeneration and sustainability for Thetford in future years."
Chris Kennard, finance director at the Shadwell stud farm, said he was "surprised and naturally disappointed".
"It should be remembered that our challenge would not have been made without the backing of many people in the town, who will no doubt share our disappointment," he said.
"We were attempting to secure a future for Thetford that is in the best interests of its citizens and one based on a sound policy of environmental protection, even-handedly applied."
Shadwell said it was considering making an appeal against the decision.