Probe over 'malicious' comments on Facebook tribute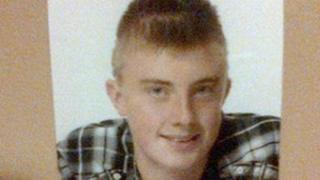 "Sickening" comments left on a Facebook page set up in memory of a 17-year-old boy are being investigated by police.
Aiden Miles Vandenborn, of the Downham Market area of Norfolk, died on 15 December when he was struck by a car on the A10 at nearby Bexwell.
A Facebook page for Aiden became littered with "malicious" comments and images. The page has been removed.
Supt Dave Marshall said officers were carrying out inquiries to identify those responsible.
He added that accusations on social networking sites that the culprit was a "local young man" were false and also malicious.
'Distress and hurt'
"It is sickening that someone would wish to post such comments at any time on social media, and especially on a tribute page to a young man who has recently died," he said.
"The purpose of these comments is purely to cause distress and hurt and while the person responsible may appear anonymous on the site, we will carry out inquiries to identify them so they can be held fully accountable for their actions."
He added: "The speculative naming of people on social media is unhelpful to our investigation and potentially very damaging."