NHS trust defends £700 Quality Street chocolate spend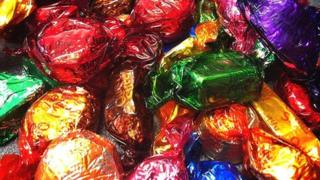 An NHS trust looking to cut up to 500 jobs and save £40m spent almost £700 on chocolates to celebrate a merger.
Norfolk and Suffolk NHS Foundation Trust bought 134 tins of Quality Street to mark the amalgamation of two mental health bodies.
The union Unison said the trust should be spending every available penny on protecting frontline services.
But the trust said buying the chocolates was a way of making staff feel appreciated.
Figures obtained by the BBC under the Freedom of Information Act revealed the confectionery was bought from Sainsbury's in December 2011 at a total cost of £670.
The trust had originally paid £805 but had been reimbursed £135 a month later after obtaining a discount.
'Thanking our staff'
The chocolate was distributed among staff to mark the Norfolk and Waveney Mental Health Trust merging with the Suffolk Mental Health Partnership.
The merger followed safety concerns at the Suffolk trust after a number of patient deaths and criticism of some aspects of management.
It was promoted as a way of delivering significant cost savings by amalgamating corporate support functions.
In a statement, the trust said: "The chocolates were given to staff and wards across Norfolk and Suffolk to celebrate the first day of the newly-merged trust.
"This was 13 months ago and we feel that the £670 spent was an inexpensive way of us thanking our staff (of around 4,400) and celebrating the beginning of the new trust, especially as staff had undergone a period of immense change and we wanted everyone to know how much we appreciated their efforts.
"Monies came from a specific merger budget and not patient care budgets."
'Pressing safety issues'
The trust is currently consulting on up to 500 job losses as it seeks to cut £40m from its budget over the next four years.
It provides child and adult mental health services, alcohol treatment, learning disability and eating disorder services.
Unions say the majority of the posts being cut are for front-line staff.
Emma Corlett, of Unison, said the "pressing clinical quality and safety issues" identified by health regulator Monitor at the Suffolk trust prior to the merger were "hardly cause for celebration".
She added: "The tough financial times facing the NHS were well recognised at that time, resulting in the recent announcement that we are to lose 500 whole-time-equivalent clinical posts.
"Our members have been patient and accepted that the trust has some very difficult decisions to make as a result of the cut in funding to the NHS by this coalition government.
"However, our members, and the vulnerable people that we provide care and support for, expect that every single penny spent by the trust is spent on protecting frontline services, and ensuring that staff have the resources that they need to do what they are here for: care for those who need our services."