Norfolk County Council leader Derrick Murphy urged to resign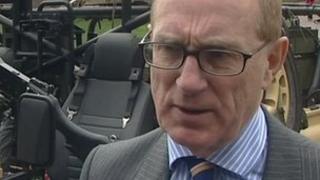 A Conservative council leader has called for the Tory leader of another local authority to resign for "attempting to undermine" him.
Nick Daubney, leader of West Norfolk Council, said Norfolk County Council leader Derrick Murphy should stand down permanently for the good of the party.
Mr Murphy has temporarily stood aside to contest complaints against him relating to an email about Mr Daubney.
Mr Murphy said he was confident that a standards committee would clear him.
He announced on Wednesday that he was temporarily stepping aside as leader in order to prepare for the county council standards hearing.
'Serious leadership challenge'
The complaints relate to an email sent last April by Kevin Vaughan, a Conservative political assistant at County Hall, to BBC Radio Norfolk.
It was sent two days before Mr Daubney was due to appear on the station to discuss a proposed waste incinerator at Saddlebow, King's Lynn.
The incinerator is backed by the county council but opposed by West Norfolk Council.
The email, released after a Freedom of Information request, suggested it might be "pertinent information" for presenter Nick Conrad to know that Mr Daubney was facing "a serious leadership challenge".
An independent investigation, commissioned by the county council, concluded that in sending the email, Mr Vaughan had been acting on Mr Murphy's wishes.
The council said it had taken "appropriate action" but that Mr Vaughan's actions had not warranted his dismissal.
However, he later resigned after declining an offer of redeployment within the authority.
Seven people complained about Mr Murphy's role in the matter, and the council ordered a report from a local government expert which recommended that he face a standards committee.
The hearing is expected to take place on 1 February.
Mr Daubney told BBC Radio Norfolk: "I believe a serious attempt was made to undermine my position.
'Electorate need clarity'
"I believed at the time that an email had been sent by an officer of the county council.
"It has subsequently become public knowledge that the county council officer acted under the instructions of the leader."
He said Mr Murphy should resign before May's local elections, when all the county council seats will be contested.
"I'm a Conservative and I want to see the Conservatives win the county council elections," he said.
"For that, the electorate need clarity as to exactly what's going on and who's leading the council and who's leading the Conservative group.
"I believe Derrick Murphy should stand down."
'Done nothing wrong'
Mr Murphy said the complaints had come from third parties, and that Mr Daubney had never complained about him directly.
"This has been going on since April, so why has no-one from the Conservative Party at central or regional level contacted me between now and then, saying I have done anything wrong?" he said.
"I can't spend all my time looking at this standards issue and doing the job at the council, so I thought the best thing to do was to temporarily stand down for two to three weeks to deal with this matter and then get back to running what is regarded by the Audit Commission as one of the best-run councils in the country".
He said he did not regret that the email at the centre of the controversy had been sent.
"One of the key jobs of the political assistant is dealing with the media," he said.
"There were two issues in the email. Both issues were factually correct and both were in the public domain."
Asked whether he thought he would be cleared by the standards committee, he said: "Of course I do. I have done nothing wrong."
Mr Murphy's deputy Bill Borrett will be acting leader of the council.