'Killer slugs' find in Norwich garden is 'a UK first'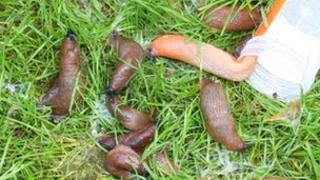 A giant species of slug, which has attacked crops in mainland Europe and eats dead mammals, has been identified in the UK for the first time in a Norwich garden.
Scientist Dr Ian Bedford spotted the Spanish slug, also known as arion vulgaris, on the outskirts of Norwich.
Dr Bedford, head of entomology at the John Innes Centre, has had his findings confirmed by Aberdeen University.
"The presence of this aggressive species is bad news," he said.
The Spanish slug can lay up to 400 eggs each and has few predators.
Dead mouse
It can grow up to 15cm long and has been called the "killer slug" because of its cannibalistic habits.
Dr Bedford suspected the slugs in his garden were different due to the vast numbers and their aggressive behaviour, which included eating a dead mouse.
"We have to make people aware of the fact that this invading slug is different to what we've experienced in the past," he said.
"They've caused damage to a vast range of plants that you wouldn't expect them to attack, like the foliage on potato crops, onion tops and chives, broad beans and runner beans."
It is thought the hardy species could have been introduced to the country on imported salad leaves, bare root trees or potted plants.
Juveniles are only 3 to 4mm long and can lose 30 to 40% of their body weight through water loss.
Dr Bedford and experts at universities in Aberdeen and Newcastle are now hoping to set up a research study to find out more about the Spanish slug and its effects.
The scientists would also like to investigate the environmental impact of the Spanish slug in northern Europe where it seems to dominate over other species.