Norwich Research Park expansion approved by planners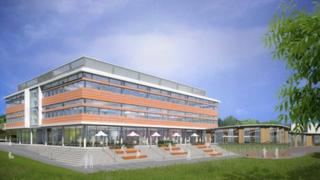 Planners have given the go-ahead for development of 700,000 sq ft (65,000 sq m) of commercial building space at Norwich Research Park.
The project is funded by an award of £26m from the government and the Biotechnology and Biological Sciences Research Council (BBSRC).
South Norfolk Council's planning committee voted unanimously to grant permission for the project.
Work is to start on the development in the Spring this year.
The completed development is projected to bring more than 5,000 jobs to the science park.
A new central hub and an enterprise centre are to be built while enhancements are to be made to an existing innovation centre.
The park's IT infrastructure and road network are to be upgraded and car parks extended while part of the new commercial development will be low cost units.
The aim of the investment is to attract new research people and companies and will take about 15 years to complete, a science park spokesman said.
Project director Alan Giles said: "We are determined that by 2030 Norwich Research Park will be a pre-eminent international research and innovation park focussed on crops, food, health, genomics and environmental sciences."