Norwich cemetery angels broken by vandals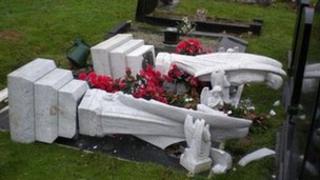 Gravestones have been damaged and memorial angels up to 8ft tall knocked over and broken in Norwich.
The crematorium memorial gardens on Earlham Road and the nearby Old Earlham Cemetery were both targeted in the past week, police said.
Fourteen headstones were damaged and three marble angels were knocked over.
Supt Paul Sanford described the culprits as "heartless" and said the damage had caused great distress to the families involved.
The headstones were pulled and kicked at the crematorium between 08:30 GMT on Monday and 08:30 GMT on Wednesday.
Two angels between 6ft and 8ft tall and one 4ft angel were pushed over, causing them to break, at the cemetery between 11:00 GMT on Tuesday and 10:45 GMT on Wednesday.