Great Yarmouth Primary Academy claims 45-hour week works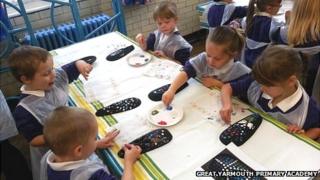 A once-failing Norfolk primary school says it has seen a "rapid improvement" among pupils since it adopted a 45-hour a week timetable.
Great Yarmouth Primary Academy, which has 440 children between three and 11 years old, began opening until 18:00 for its oldest pupils in September.
Head teacher Bill Holledge said that after 15:30 pupils could do both homework classes and activities such as sport and drama.
Its Parent Teacher Association said the majority of pupils had benefited.
The former Greenacre Primary School opened as an academy in September two years after Ofsted inspectors placed the school into special measures.
At the time it was criticised for not diagnosing the needs of children who were failing to progress and was told to reduce its absenteeism.
But just one year after the problems were rectified, Mr Holledge said the school was now on a "rapid trajectory of improvement" and he was dealing with more "confident, articulate and enthusiastic" pupils.
'Bounce out of the building'
Since September lessons have started at 08:55.
School then continues until 15:30, but after that children in years three to six have the chance to play sport, attend drama classes, go horse riding or even compete at karate.
Then from 17:00 until 18:00 the oldest pupils can attend homework support classes.
Mr Holledge said teachers' working hours were unaffected as the school paid for teaching assistants and other people, including sports coaches, to conduct the extra activities.
Mr Holledge said: "We have made a conscious effort to give pupils access to activities that many would have not had the opportunity to do or parents would have been unable to afford.
"It's giving them broad life experiences and we have seen improvements across the board.
"I have seen pupils bounce out of the building because they've had a really good day."
When the school proposed the new timetable last summer, it was met with hostility by some parents who petitioned against the changes.
However, Mr Holledge claimed pupils and parents were now "massively on board" and most children were not finding the timetable stressful, despite having to work longer than many adults.
Josefa Soares, chairman of the Parent Teacher Association, said most children had benefitted from the extended hours.
"It really is now an A* school. There doesn't seem to be so much anger when the kids are being dropped off by the parents," she said.
"I believe there is still a slight room for improvement for children who need special help, but it is only slight.
"I've had no negative teachers come to me. My kids are at school until five and if I took them out they would kill me."
Scott Lyons from the Norfolk branch of the National Union of Teachers (NUT), said it had received "no negative feedback" from teachers about the new timetable and staff were not having to work "above and beyond" what was expected.