Norwich couple compile gallery of 'faces' in everyday objects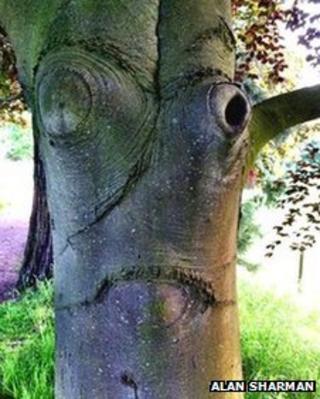 To some they would look like just any other building, tree or piece of furniture.
But where many people would see ordinary, everyday objects, Alan Sharman and Jane Foulger see eyes, noses, mouths and eyebrows.
The married couple, from Norwich, have started an online picture gallery of faces spotted in unlikely objects.
Among their finds are a "boggle-eyed" tree, a miserable tap and even a "shifty-looking" building.
"It started a couple of years ago when I spotted a block used to hold scaffolding or a fence, and I thought it looked like The Scream by Edvard Munch," said Ms Foulger.
"I showed it to Alan and we both thought it was funny. Once we started looking, we began seeing faces everywhere."
'Wired strangely'
Mr Sharman, 43, said: "We don't deliberately set out to find faces. We just like going for walks and they start appearing in things.
"I think people are different and some just don't see them. Maybe we're wired a bit strangely."
Friends have also contributed pictures to the couple's Facebook gallery, which they have just made public.
One of their favourite photos was taken last week by Ms Foulger of a "shifty-looking building" off St Giles Street, Norwich.
In 2011, thousands of people viewed pictures of a terraced house in Swansea after a Twitter user claimed it resembled Adolf Hitler.
Spotting faces in objects is a manifestation of a psychological phenomenon called pareidolia which causes some people to see or hear something significant in a vague or random image or sound.