'Oompa Loompas' sought by police over Norwich assault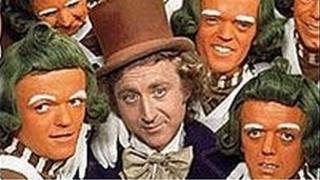 Two men dressed as Oompa Loompas from the film Willy Wonka and the Chocolate Factory are being sought by police in connection with an assault in Norwich.
A 28-year-old man was attacked by three men and a woman as he left a kebab house on Prince of Wales Road in the city on Thursday.
Two of the men had painted orange faces and dyed green hair and were wearing hooped tops, as in the 1971 film.
The victim suffered cuts and black eyes, Norfolk Police said.
Police are appealing for witnesses.