Cromer Boxing Day dip: Hundreds in North Sea charity plunge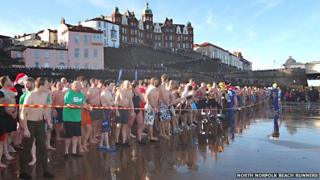 The largest number of people ever to take part in the annual Cromer dip braced the Norfolk coast on Boxing Day morning to raise money for charity.
More than 300 people took part in the North Sea plunge to encourage thousands of spectators to make donations to charity.
Event spokesman Clive Hedges said: "The dip just gets bigger and bigger each year - the atmosphere was electric."
It is estimated the dip raised more than £2,000.
"There must have been at least 300 people racing towards the waves which is our best dipper turnout ever," said Mr Hedges.
"When you looked back up towards the promenade there seemed to be thousands of spectators too - let's hope they all put a pound in the collection buckets."
'Bit of a dare'
Organised by the North Norfolk Beach Runners (NNBR), the seaside town's annual dip has taken place since 1985 when "foolhardy" NNBR members decided to do it as "a bit of a dare".
"It's a big part of Cromer's Christmas traditions - people really remember it," said Mr Hedges.
"Today was absolutely incredible - there was so much adrenalin on the start line you could smell it.
"To take a dip also gives you some great Boxing Day boasting rights when you can say 'I went into the North Sea this morning'."
Spectator Lisa Othon, from Sheringham, said: "I go every year as it's just brilliant, really good fun.
"The most amazing thing was the amount of people watching: all up the slope and along Cromer pier - it's such a massive thing.
"The funniest thing was all the cheering as they ran to the sea which turned into high-pitch squeals as they hit the water, especially from all the big, burly men who thought they were looking pretty impressive as they ran down the beach.
"As soon as they hit the water all you could hear were their screams."
Norfolk Christmas dips also took place in Hunstanton, Mundesley, Overstrand and Great Yarmouth.