Two dead and one injured after crash on A47 in Norfolk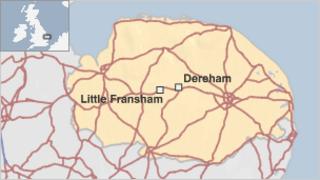 Police investigating a Christmas Eve crash in Norfolk have appealed for witnesses, as it emerged that a second person has died after the collision.
A 76-year-old female passenger in a Vauxhall Astra died at the scene, on the A47 at the Wendling turn-off between Little Fransham and Dereham.
A 77-year-old man, who was driving the car, sustained serious injuries and died in hospital on Monday night.
The crash involved two vehicles heading in opposite directions.
The driver of the the other car is being treated in hospital.
Thought to be in her late 60s and from Norfolk, she has numerous broken bones and internal bleeding, police said. She was driving a Volkswagen Polo.
The driver of the Astra is believed to be from Leicestershire.
Police would like to hear from anyone who witnessed the crash about 14:35 GMT on Monday, or who believes they may have seen either vehicle before it happened.