Norfolk rail man retires after 61 years on the tracks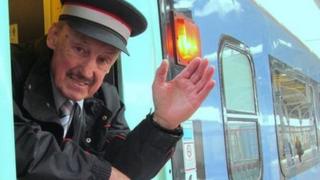 A railwayman who followed his father into the business will finally retire at the end of the year after clocking up 61 years service.
Chas Bellchamber is a ticket inspector based at Norwich station but his career began in 1951 when he joined the railway as a fireman on steam trains.
He was inspired to take the job by his father Sidney, who drove steam trains between Norwich and London.
Two sons and a grandson work on the railway - making four generations.
Mr Bellchamber, 77, speaks fondly of the steam engines he worked with.
"They were all temperamental and each one had to be treated differently," he said.
"You had to know all their characters so that they would be stoked up properly in the morning and did not cause a blow up.
'Watch cricket'
"That was when you lost steam or the water was too low and the train would stop."
He was inspired to go on the railway by his father who took up the job before World War I.
While stoking the trains on the mainline in and around London while based at Stratford depot, he also qualified as a driver and later became a guard and senior conductor.
Mr Bellchamber, who lives in Norwich, had to retire briefly at the end of the 1990s when he suffered back trouble but returned as a ticket examiner as he missed the railway so much.
He is a keen sports fan and is looking forward to having a bit more time to watch cricket, especially watching his grandsons play.
Mr Bellchamber said he would keep in close contact with the railway as his sons John and David work for Greater Anglia as an operations manager and train driver respectively.
His grandson Devin also works as a conductor.
Between the four generations, the Bellchamber family has served the railway for almost 180 years.