Former Hunstanton teacher John Redman jailed for sex offences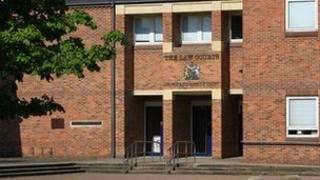 A former teacher has been jailed for sex offences after a court heard he was a danger to children.
John Redman, 52, was found guilty at Norwich Crown Court of sexually assaulting a boy of 14 and of breaching a sexual offences prevention order.
The court heard Redman, of Kempe Road in West Lynn, Norfolk, touched the boy after employing him to do odd jobs.
Jailing Redman for 12 months, Recorder Katharine Moore told him: "You present a high risk of harm to children."
Redman, who had taught science at Smithdon High School, Hunstanton, was convicted in November of sexual assault and three offences of having unsupervised contact with the victim and another boy.
'Difficult to sleep'
He was in breach of a sexual offences prevention order imposed by the same court in April 2011 after he admitted three sex offences against a teenage boy.
That order prevented him from having unsupervised contact with boys aged under 16.
Chris Youell, prosecuting, said the assault, which took place on 31 July, had had a "quite profound" effect on Redman's victim.
"He has had to stop working in the area; he has lost trust in people, particularly men; he gets anxious and upset and finds it difficult to sleep," he said.
"There has been a lot of stress in the family home."
'In denial'
When Redman was sentenced in April 2011, he was also ordered to undergo a sex offender treatment programme but the court heard it had been cancelled and Redman had never attended.
Neil Guest, mitigating, said had Redman attended the course, it could have prevented further offences.
"He has finally accepted that there is a difficulty he must address. Hitherto, he had been in denial," he said.
He asked that Redman be given a suspended sentence and again be put on a treatment programme.
But the recorder said Redman was not a first-time offender and only a custodial sentence was appropriate.
"It is perfectly plain that in seeking your own sexual gratification, you paid no heed at all to the young man's wishes, emotional development and his future," she told him.
"You just thought of yourself and your own needs."
The new sexual offences prevention order bans Redman from contact with any boy under 16.