Irene Playford from Fakenham in five-hour ambulance wait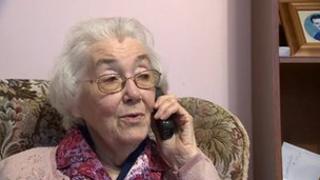 The East of England Ambulance Trust said it was "clearly unacceptable" for an 81-year-old woman to have to wait more than five hours for an ambulance.
Irene Playford broke her shoulder when she fell on to the floor at her home in Fakenham, Norwich, on Wednesday.
Her daughter Liz Tuddenham, who was with her at the time, phoned for an ambulance at 17:30 GMT, but it did not turn up until about 23:00.
Ms Tuddenham said the long wait was "absolutely disgusting".
"I said, 'she's 81, can you not get here any quicker?' and they said 'no'.
"I think I'd have been quicker if I'd tried to get her in the car and taken her to the hospital."
'Clearly unacceptable'
Mrs Playford was treated at the Queen Elizabeth Hospital in King's Lynn.
Back at home after the fall, she said: "I laid on the floor and couldn't move and I was freezing cold and when the paramedic... helped to get me up, I didn't know where I was."
In a statement the ambulance trust said: "While there was an unprecedented and unpredicted level of demand [on Wednesday], our service in this case was not up to the standards we strive for and was clearly unacceptable."
Dan Poulter, Under-Secretary of State for Health, said: "We do need to see the new management team taking responsibility for making sure that more rural areas get more quick response times."
The ambulance service has been criticised by MPs for its response times and has commissioned an independent review into its services, particularly in rural areas.
On Monday, it's new interim chief executive Andrew Morgan admitted response times had to improve.