EDL and We Are Norwich marches cost £128,905 to police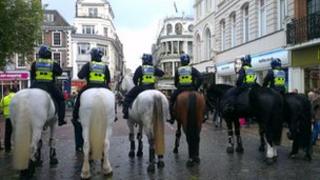 Policing the English Defence League (EDL) demonstration in Norwich and a counter protest by We Are Norwich cost £128,905, police have revealed.
Officers from 11 forces were on duty as about 200 EDL supporters and up to 2,000 members of the We Are Norwich coalition marched through the city on 10 November.
Norfolk Police said about 400 police officers took part.
The cost of the operation will be met from contingency funds.
Assistant Chief Constable Charlie Hall said: "This was a significant policing operation for Norfolk which required support from a number of external police forces and specialist units.
"Our plan sought to protect the safety of all of those involved, and the general public, and to minimise disruption in the city - we did so successfully but, of course, there is a cost attached."
In November, Matthew Berryman, 28, of Astell Road, Norwich, was fined £150 by Norwich magistrates for using threatening words or behaviour during marches in the city.