'Dad's Army' hotel in Thetford demolished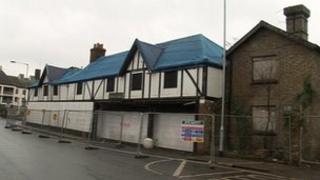 A 500-year-old Norfolk hotel that featured in the opening scene of the first episode of BBC TV's Dad's Army has been demolished.
The Anchor Hotel in Thetford closed in 2006, but was popular with the Dad's Army cast when they were filming in the town in the 1960s and 1970s.
Breckland District Council, which owns the hotel, wants to redevelop the site.
Campaigners against the demolition had gathered to watch as the bulldozers arrived.
Jane Varanand, whose parents owned The Anchor until the mid-1970s, was unhappy at the actions of the council.
Sitting next to the bronze statue of Captain Mainwaring that overlooks the hotel she said: "There has been an inn or hotel or pub on the site for the last 500 years and in one fell swoop 500 years is being demolished."
Sir Bruce Forsyth
William Nunn, leader of Breckland District Council, said the plan was to put a cinema and restaurants on the site to get a "riverside culture going and bring some life to the town centre".
He said after the council bought the hotel in 2008 it was unable to find anyone to redevelop it.
"There was a hope we could get a customer in there much more quickly [but] getting all the pieces of the jigsaw, getting people together, getting investors... is incredibly difficult.
"But now we're working with a team of people who we hope can do that for us."
It is hoped development could begin in the new year.
However, Mrs Varanand said the hotel had been full of history.
Many stars had stayed there, including Sir Bruce Forsyth, Alma Cogan and the Beverley Sisters.
"All around the hotel they're demolishing are hoardings showing the people of Thetford the history of Thetford.
"The irony is they are knocking down 500 years of history," she said.