Norfolk coast conservation plan: People ban dropped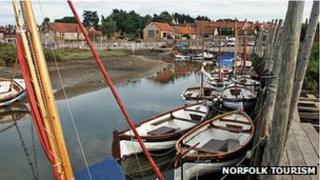 Plans to deny people access to marshes along the Norfolk coast where a variety of occupations are carried out are to be dropped.
Campaigners are delighted Blakeney Marshes will no longer be part of a Marine Conservation Zone.
Natural England wanted to create two areas near Blakeney with restricted access for people.
North Norfolk MP Norman Lamb and Wells county councillor Dr Marie Strong have won their campaign to stop the project.
They met with the minister, Richard Benyon, in March this year and then collected a 2,000-signature petition against the plans.
Traditional occupations such as samphire-picking and bait-digging would be affected and an area of natural beauty denied to walkers.
Natural England wanted to set aside the areas for marine life to exist without the impact of human activities.
'Wonderful resource'
The sites would have been highly protected but relatively small in area.
A newly published consultation document said that earlier recommendations would not be taken forward in their current form.
Plans would be reviewed, "particularly in relation to long standing non-commercial traditional activities".
Mr Lamb said: "I'm really glad the Government has listened to local people's views and decided to drop the plans.
"Blakeney is already well protected and these proposals were excessive; they could have had a major impact on traditional activities and livelihoods."
Ms Strong said: "The news that common sense has prevailed will be a profound relief to the many supporters of Blakeney marshes.
"The marshes are a wonderful natural resource much loved by many people across Norfolk."