Music equipment destruction by Norfolk Police criticised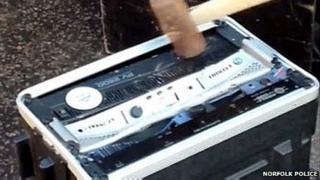 A music charity has criticised Norfolk Police for destroying hundreds of pounds worth of seized music equipment and "boasting" about it online.
Norfolk Police posted a film on YouTube of officers smashing amplifiers and speakers to re-iterate its "zero-tolerance of unlicensed music events".
Community Music East called it a "waste of equipment" that could be used by the county's "under-resourced" groups.
Norfolk Police said it had been told to destroy the gear by the courts.
The constabulary said speakers, a generator, amplifier and cables had been confiscated after a rave in Feltwell Woods, west Norfolk, on 4 March.
The equipment was destroyed by officers at King's Lynn police station this week.
'High demand'
On the force's website, Supt Dave Marshall said: "This shows once again that we will not tolerate raves in Norfolk.
"They can have a real impact on people living in rural communities and we will continue to crack down on those who commit these crimes."
Adrian Cooke, from the Norwich-based charity, which promotes education through music and the media, said: "It's a waste of equipment and it seems strange that the police seem to be happy boasting about it.
"Around the county there's many organisations that are under-resourced and DJ equipment in particular is in high demand.
"If there was any way it could be used for educational purposes that would be so much better, but I'm no law expert."
A police spokesperson said: "These items were the subject of a destruction order handed down from the court - meaning they had to be destroyed rather than confiscated and sold on or donated.
"If the equipment was sold or donated there is a possibility it could be used for unlicensed music events in the future."